Digital Distribution – Moving Education Forward
Digital distribution can help modern educational institutions
Educational providers, universities and colleges have historically been at the forefront of digital distribution efforts and online learning. However, the need to quickly move away from physical distribution of learning materials, go fully digital and deemphasise face-to-face and on-campus classes has very strong impetus. Once they embark on these changes, organisations will find that while digital distribution presents some challenges, it also delivers greater flexibility, cost management opportunities and very useful analytics and business intelligence surrounding student engagement.
Shifting from physical learning resources to a digital distribution platform presents opportunities for better and more centralised copyright management as well as greater insight into resource usage alongside improved subscription management and better budgetary controls.
How do you distribute digital content?
Connecting the point of distribution to the location of digital materials at your institution is a key first aspect of creating a viable digital distribution platform and strategy.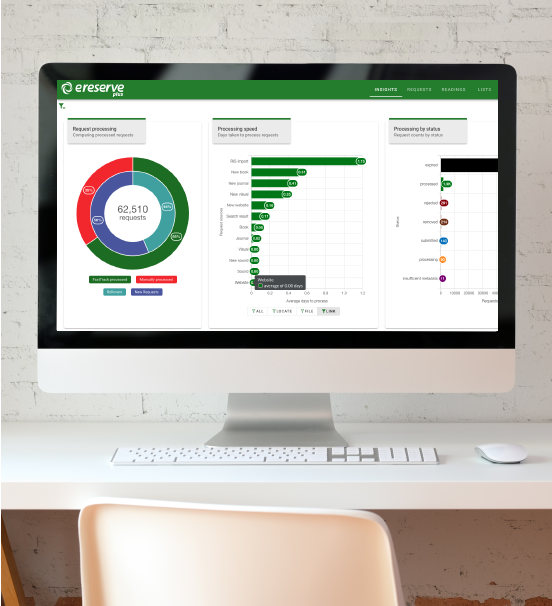 Firstly, connecting the campus space, Learning Management System or Virtual Learning Environment from where digital materials are distributed to the library space, Library Discovery Service and other digital resource repositories (such as streaming video servers) where digital resources and other learning materials are located provides an initial basis for a digital distribution service and process.
Digital distribution systems such as eReserve Plus form a bridge that connects the campus and online learning environment with the library, digital repositories and other systems and makes the creation of digital resources and digital reading lists for online distribution quick and painless.
Any online distribution platform must help faculty locate, discover and compile digital resources into resource lists or class reading lists quickly and easily and make materials available to students within the learning environment. Embedding quality-assured digital resources within course content allows students to access their digital learning materials contextually where they should – at the point of contact with learning materials and where pedagogically appropriate.
The best digital distribution channel and service will also ensure that the distribution of copyrighted materials and the licensing for distribution of copyrighted material is efficient for the library to manage, adheres to best practices with regard to copyright law and practice and gets out of the way of faculty and students so they can get on with teaching and learning.

Consistency
Ad-hoc course content delivery may cause the student experience to vary such that if faculty choose to arrange, manage and place digital learning resources differently to each other, students are presented with differing paths and presentation of digital resources, which is unnecessary. An effective digital distribution system, such as eReserve Plus, will provide clear and consistent mechanisms for discovery, presentation and distribution across all departments, campuses and courses.

Flexibility
Moving to digital resource distribution offers opportunities for implementation of flexible workflows between faculty and library or teaching and learning staff. An easy-to-use digital distribution system will offer faculty self-service, a collaborative option that facilitates the ability for library and teaching personnel to collaborate with faculty on resource list creation and also offers the ability for library staff to manage and set up digital resource lists on behalf of faculty.

Quality
Digital resource quality can be quickly and easily monitored via an effective digital distribution platform. Poor-quality resources can be swiftly swapped for high-quality versions. When combined with a best-in-class copyright management system, digital resources can be distributed with confidence that students will be receiving quality, usable materials while copyright concerns are correctly managed and easily auditable.

Business Intelligence & Analytics
By providing a clear and easy-to-use system for discovery, management, compilation into course resource lists and copyright tracking of content, a well-designed digital distribution platform will provide accessible analytics and business intelligence on licences used for digital materials, productivity of staff and importantly the degree of student engagement and value of digital resources.